Diagnosis and treatment of arrhythmias
The most advanced and optimal diagnosis and treatment of arrhythmias
In the last 20 years, the diagnosis and treatment of arrhythmias have made the greatest progress in the field of cardiovascular disorders. Certain types of arrhythmias, which used to be considered difficult to eradicate, can now be radically cured.
What is important is to receive a diagnosis and treatment at as early a stage as possible. If you experience any conditions such as palpitations, shortness of breath, dizziness, or an irregular pulse, please visit us. We will provide you with the latest diagnosis and treatment.
Examinations for arrhythmias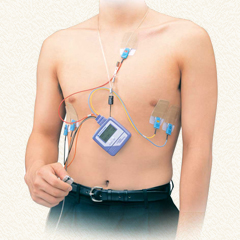 24-hour (Holter) ECG
A Holter ECG is an examination to record your heart beats over a 24 hour period for an analysis. To keep monitoring the heart activity throughout patients' daily activities is essential since arrhythmias and angina attacks often occur at night or in the early morning. By identifying the seriousness of the symptoms and time of its occurrence, we can determine if you need treatment or how effective a medication will be. The latest Holter ECG monitor we use at the clinic is small and enables bathing, thus putting less burden on the patients.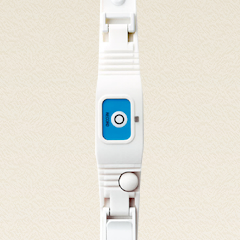 Seven-day ECG
When a symptom rarely appears, a 24-hour ECG examination is not sufficient to make a diagnosis. In any of the following cases, we recommend you undergo a 7-day ECG monitoring.
A more detailed examination is required since a symptom remains undiagnosed.
A symptom indicates a potentially serious state.
To confirm there is no reoccurrence after receiving catheter treatment.
This recorder is removable by yourself. It also allows bathing.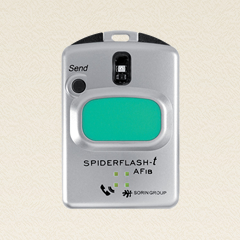 Event recorder
A cardiac event recorder is used for patients with infrequent arrhythmias or other symptoms suspected to be associated with the disorder. This device keeps track of the electrocardiograms. When an episode of an arrhythmia occurs, the patients can press the switch to retroactively record the heart rhythm for about 30 seconds.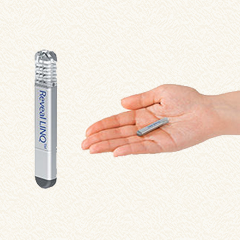 Simplified implantable ECG recorder
This recorder is used for patients with fainting spells of an unknown cause or with a brain infarction suspected to be caused by an arrhythmia. Annually 200,000 syncopal patients are transported to hospitals, but the conventional examination methods cannot identify the cause of the symptom for 20-30% of them. The procedure for implanting the devices is simple and requires a small incision (about 2cm long) on the skin, imposing less stress on the body. It can keep recording for up to three years. The monitoring data is transmitted via a telephone line so that we can immediately contact you in case of an event. Patients with this ECG recorder can have MRI scans depending on the conditions.
Medications
Diagnosis and treatment by arrhythmia specialists is crucial.
The initial care for arrhythmias is treatment with medications, while an underlying disease of the patients, such as high blood pressure or diabetes, should be taken into account. The types and doses of medicines differ depending on the patient's underlying condition, age, and symptoms. It is very important to have a proper prescription and regular checkups. An appropriate diagnosis and judgement by arrhythmia specialists is crucial.
Management of and treatment with implantable devices
Providing routine checkups for various pacemakers Remote monitoring is also available
Pacemakers monitor electric signals from the heart and send therapeutic stimuli if necessary. Pacemakers include: a device that helps prevent an excessively slow heart rate; an implantable cardioverter defibrillator (ICD) that automatically detects and treats life-threatening ventricular fibrillation; a cardiac resynchronization therapy (CRT) defibrillator that helps improve symptoms of heart failure caused by cardiac electrical instability.
We provide routine checkups for pacemakers to see if the device has no problems and to adjust its settings. In recent years, remote monitoring models have increased in number. Since information on the heart activity of patients living at a distance from the clinic has become accessible via a computer in the clinic, we can make a quick response to an abnormal event.
Patients are asked to place a transmitter at their home for sending information from an implantable pacemaker to a dedicated server. We can then check the data on the computer in the clinic. Thus, patients can send information on how their device is working to medical institutions without visiting them.
Catheter treatment for complete cure of arrhythmias
More than 5,000 cases of catheter ablation have been performed by the clinic director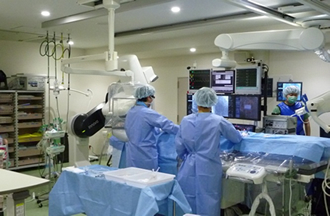 An arrhythmia is caused by abnormalities in the generation or conduction of electrical impulses within the heart. A diagnostic and therapeutic catheter (a tube about 2mm in diameter) are inserted into the vein so that tiny electrical signals, which are unable to be recorded externally, can be recorded to obtain a more detailed diagnosis. The area of electrical abnormalities, the cause of the arrhythmia, is treated by manipulating the therapeutic catheter. This procedure requires about 30 minutes to two hours.
I have spent a lot of time on arrhythmia treatment over the years, and been invited by many major hospitals to perform catheter ablation as a radical treatment approach. So far (as of the end of 2016), I took charge of the treatment as a chief operator for more than 5,000 patients. With this experience and achievement, I am confident that I am one of the leading operators in Japan.
Catheter treatment requires patients to be hospitalized for a few days. By closely coordinating with major hospitals and special medical institutions that the patients are familiar with, I (the clinic director) am in charge of performing the examinations and treatment.
Atrial fibrillation
Prevention of cardiac failure and thromboembolisms is important
A complete cure is possible with catheter treatment
Atrial fibrillation is the most common arrhythmia, which increases with age and affects approximately 5% of people aged 70 or over. When the heart beat is disturbed, it can cause irregular pulses, leading to various symptoms e.g., palpitations, breathlessness, discomfort in the chest, dizziness, and loss of consciousness. Even in the absence of such symptoms, it should not be left untreated since there are risks of progressive heart failure attributed to an impaired heart pump function or reduced blood flow, or risks of the development of embolisms such as brain infractions. These risks are significantly higher among those suffering from hypertension, diabetes, or other lifestyle-related diseases. It is essential for them to receive preventive care with the right medications.
Undergoing catheter treatment (ablation) during an early stage is recommended as it is highly effective as a radical method.
CLINIC INFO
Saturday afternoon, Sunday & Public Holidays
※Dr. Kurotobi provides catheter treatment for arrhythmias at affiliated medical institutions on: Tuesday & Wednesday mornings; and Thursday & the third Friday afternoons.
Namba Kurotobi Heart Clinic
10th floor, Namba Front Building (former Namba Hansin Building), 4-7-14 Namba, Chuo-ku, Osaka 542-0076
3 minute walk from the Subway Namba Station

10th floor, Namba Front Building (former Namba Hansin Building),
4-7-14 Namba, Chuo-ku, Osaka 542-0076
TEL:06-6634-7810

FAX:06-6634-8010
Copyright ©NAMBA KUROTOBI HEART CLINIC All Rights Reserved.